A cheese factory, a bridge, a monastery, a church, are some examples of the venues that build the essence of a territory, being testimonies of the history and legacy of its community. A new edition of "Sons no Património" (Sounds in Heritage Sites), a network event promoted by the Porto Metropolitan Area, will be happening in these living places. It is a sound trip that runs through 17 locations, each accompanied by a musical project, along with other activities promoted by the municipalities and open to all. The events pay homage to the architecture, arts, crafts and memory of our ancestors, evoked in different spaces of history, creation and worship, a commitment that has been renewed and strengthened by the recent approval of the Metropolitan Charter for Culture 2023-2028. Eduardo Vítor Rodrigues, President of the Porto Metropolitan Council, comments on the initiative: "This cycle of concerts not only suggests music as a way of bringing people closer to museums, monuments and other heritage places, but also gathers municipalities, officers, cultural agents and other partners around a common project. It is already an inescapable metropolitan brand and a synonym for moments of unrepeatable enjoyment for those who live in and visit the territory, generating encounters, often unlikely, with some of the best talents of music made in Portugal and each community's identity places."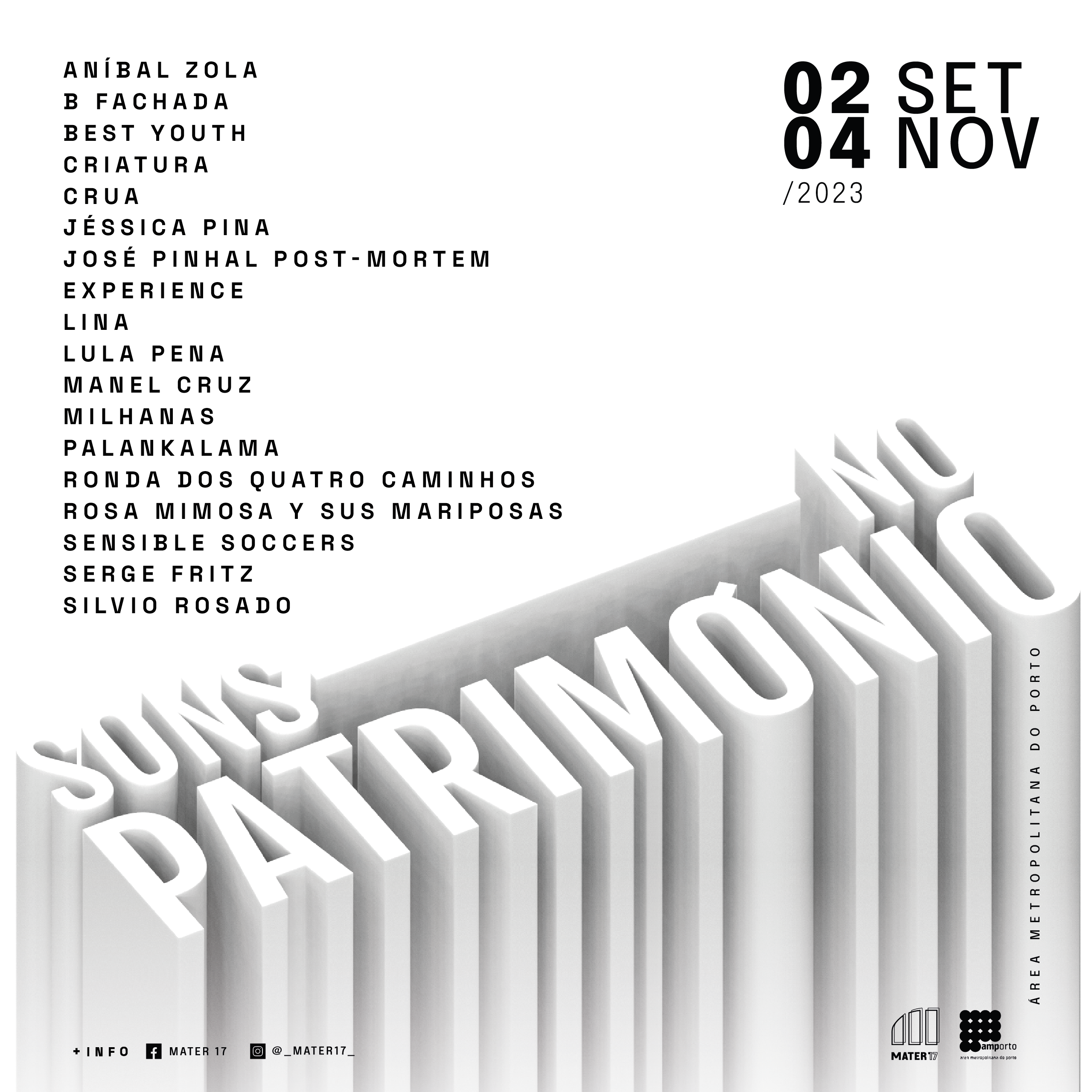 From instrumental music to indie rock, from pop to fado, without forgetting, of course, traditional Portuguese music, the programme starts on 2 September in the Vale de Cambra's City Hall, at 16:00, with the Antoniano Tour, and, at 22:00, a concert by Best Youth, whose single "Cool Kids" offers the preview of the new album to be released briefly. On 9 September is the turn of the singer B Fachada, playing in the Cividade de Terroso, Póvoa de Varzim. In Santa Maria da Feira, Manel Cruz will be performing on 15 September at the MAF Cheese Factory. After a creative hiatus, the artist has new songs in his own name to perform on stage and sing at full lungs. On the same weekend, on 17 September, Criatura will be presenting themselves in the Cividade de Bagunte, in Vila do Conde. On 21 September, the band Ronda dos Quatro Caminhos, whose motto is to contribute to the preservation and dissemination of traditional music and regional instruments, takes hold of Praça Brandão de Vasconcelos, in Arouca. Serge Fritz's concert, with his album "gandulo", takes place on 23 September, in the Chapel of Nossa Senhora de Valinhas, in Santo Tirso, and the next day, at 17:00, Milhanas is the voice that will echo in the Monastery of Leça do Balio, in Matosinhos. In Valongo, in one of the most anticipated concerts of this edition, the Sensible Soccers bring us their sounds that coexist harmoniously between electronics and organic instruments, escaping the traditional song format, with progressive arrangements and structures. This concert will be surrounded by the unusual landscape of the São Lázaro Bridge, on 29 September, at 21:30 pm. We close the month in a frantic dance environment, celebrating the life of José Pinhal, honoured by the José Pinhal Post Mortem Experience, in the Park of Nossa Senhora dos Milagres, in São João da Madeira.
The month of October adds many other unmissable musical proposals such as Rosa Mimosa y sus Mariposas, that transport us to the rhythms of the traditional Colombian cumbia, the Peruvian chicha, the Argentine punk-cumbiero and the Chilean nueva cumbia; the fado singer Lula Pena, in Gondomar, in her uncommitted approach to her music; the Crua, who promise a pulsating and intimate concert, tender and vigorous, on a personal journey through the traditional Iberian root. Aníbal Zola has the honour of closing this 6th edition, already in November, in a spectacle of opposites and contradictions, of warm and cold, love and hatred, with various musical influences that populate the artist's imaginary.
This project suggests music as a vehicle to bring people closer to heritage, which increasingly wants to be more open, accessible and valued. The initiative reflects a continuous commitment to the democratisation of access to artistic creation, culture and cultural heritage, resulting in an extended and free invitation to enjoy iconic spaces in each municipality and enjoy Portugal's best music. "The 17 concerts are complemented by a program of activities promoted by each municipality around the discovery of each heritage site in focus in this edition," adds Eduardo Vítor Rodrigues.
Don't miss a thing by following the festival on AMP and MATER 17's social networks!
Programme
September
2/9 22:00 Best Youth, Vale de Cambra
9/9 17:00 B Fachada, Póvoa de Varzim
15/9 19:00 Manel Cruz, Santa Maria da Feira
17/9 17:00 Criatura, Vila do Conde
21/9 21:30 Ronda dos Quatro Caminhos, Arouca
23/9 17:00 Serge Fritz, Santo Tirso
24/9 17:00 Milhanas, Matosinhos
29/9 21:30 Sensible Soccers, Valongo
30/9 21:30 José Pinhal Post-Mortem Experience, São João da Madeira
October
1/10 17:00 Lina, Maia
7/10 17:00 Rosa Mimosa y sus Mariposas, Oliveira de Azeméis
8/10 17:00 Silvio Rosado, Porto
14/10 21:30 Palankalama, Espinho
15/10 17:00 Jéssica Pina, Vila Nova de Gaia
21/10 17:00 Lula Pena, Gondomar
22/10 17:00 Crua, Trofa
November
4/11 21:30 Aníbal Zola, Paredes